wollrasen® easygreen® is the sustainable alternative in the lawn system
easygreen® Lawns

Create a verdant oasis in your own back garden or use the
easygreen® grass mixtures successfully in gardening and
landscaping projects. easygreen® offers a simple and sustainable
alternative for creating immaculate lawns.
The ready-to-use mat, made of 100% natural sheep's wool
and non-woven viscose, is impregnated with seed and fertilizer.
We use only high-quality seed for our grass mixtures
(RSM-certified standard seed mixtures).
When selecting the grass mixtures, we focus both on
aesthetics as well as the resistance and adaptability to
different locations.
Roll-out wool lawn instead of roll-out turf
Our range comprises four different easygreen® grass mixtures
– wool lawn (for sports and playing fields), semi-shaded
lawn, dry lawn as well as landscape lawn.
Benefits
The seed is optimally distributed in the fleece mat to
ensure uniform growth. The added fertilizer accelerates the
growth.
The mats are 100% biodegradable and contain no microplastics.
They act as a moisture reservoir.
The seed impregnated in the fleece mat is protected from
birds, wind as well as from being washed away. The wool
content acts as a natural slow-release fertilizer. Weed
growth is reduced by up to 50%.
The mats can be used for up to two years.
Installing (see instructions for use (PDF)) is easy. The lawn rolls are laid with a 5 cm overlap. They are light in weight and easy to handle. These seed mats can be trimmed with household scissors.
The rolled-out fleece webs are fixed with U-shaped steel anchors or weighted down with some soil.
In the first year of installation, the newly laid lawn requires no fertilizer; the greening textile already contains some for the start phase. During the decomposition of the fleece, additional nitrogen is released, the effect of which is comparable to sheep's wool fertilizer.
wolllrasen® easygreen® is equipped with a sports and playing fields lawn mixture as standard. The range also includes wolllrasen® easygreen® dry lawn and wolllrasen® easygreen® semi-shaded lawns.
The Glaeser company also produces special productions with desired seeds for customers with an order of 500 m² or more. In this way, all wishes, such as green roofs and a green area with special seeds, can be implemented.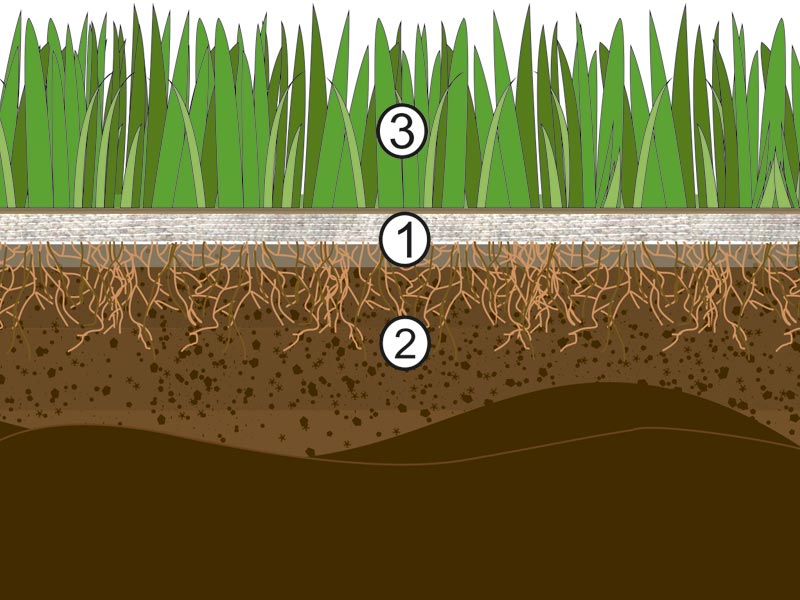 The wollrasen® easygreen® fleece consists of purely natural materials and decomposes over the years without leaving any residue.
The fleece protects wollrasen® easygreen® seeds from birds and allows them to take root particularly well.
By evenly incorporating the seeds into the wollrasen® easygreen® fleece, a wonderfully even and healthy lawn is created.
wollrasen® easygreen® from GLAESER uses the advantages of natural wool fibers:

Easy lawn repairs
Retains moisture
Protection against bird damage
Fully biodegradable
Wool fibers ensure long-term fertilization