The special kind of geotextile
greentex® easygreen®
is a biodegradable erosion protection mat that offers a simple and sensible solution for slopes with major challenges.
The fleece reinforced with jute netting can be laid at an incline of up to 70°. Deep rooting seeds and fertilizer are included.
The rolls of greening mats can be laid horizontally or vertically on the slope.
The geotextile is fixed either with U-shaped anchors made of untreated steel or with wooden anchors made of beech. You can find our fixing materials here.
The greentex® easygreen® seed mixture can germinate under normal weather conditions without additional watering. The fleece has a high water storage capacity due to the components of natural viscose. The occupied slope closes up to about 80 to 90% within one growth period.
Depending on the substrate, the jute fabric provides support for about three growth periods. During this time, the slope has stabilized through the rooting of the grass, protection against erosion is guaranteed.
When the natural fibers decompose, nitrogen is made available over a long period of time.
The green area with greentex® easygreen® is suitable for extensive use, mowing once a year is sufficient.
Laying (see instructions (PDF)) is easy.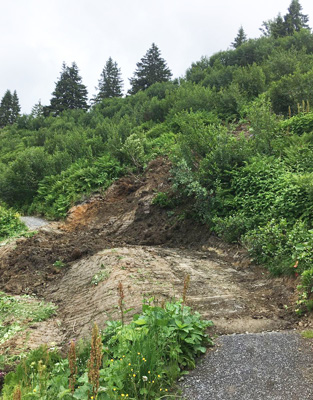 Landslide in the Allgäu
… after a landslide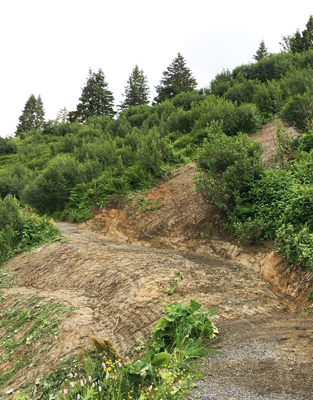 Landslide in the Allgäu
… restoration of the area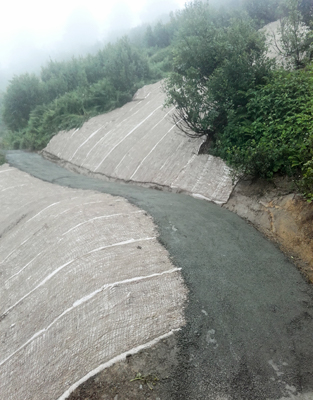 Landslide in the Allgäu
… greentex® directly after laying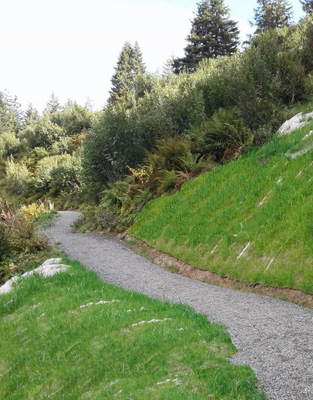 Landslide in the Allgäu
… greentex® – approx. 8 weeks after laying
The terrain is immediately paved with greentex® easygreen®.
greentex® easygreen® guarantees long-term long-term reinforcement and renaturation of slopes through plant growth, also possible on previously bare ground areas.
Ideal conditions for plant growth due to strong ventilation and high light transmission.
Cellulosic viscose fleece contains species-rich seed mixtures and fertilizer. It stores water and thus prevents streams.
The best solutions…
…are always simple and ingenious.
greentex® easygreen® is both. The multi-layer structure geotextile consists exclusively of natural fibers and is as easy to use as it is to handle and lay.
greentex® easygreen® rolls are easy to lay on any terrain due to their low weight, access roads are not required.
And it greens so green​ …
Laying
A small ditch is dug at the upper edge of the landslide and the beginning of the greentex® easygreen® roll is buried about 20 cm deep.
Then greentex® easygreen® is rolled out and fixed to the ground with pegs at both edges and in the middle. If necessary, willow rods can also be pushed through.
Complete! No rework necessary! Nature does everything else!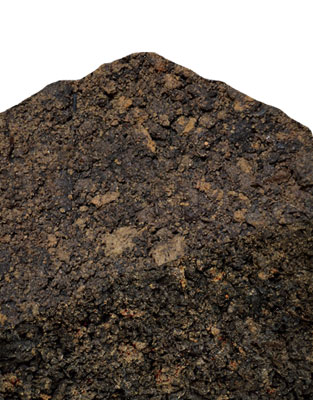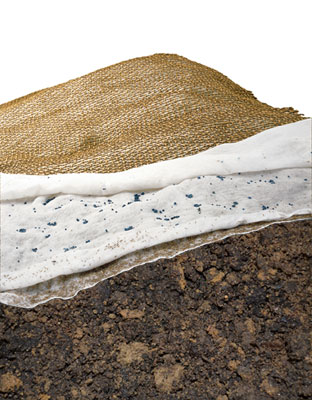 Greentex is placed and fastened
Rain and sun activate fertilizer and seeds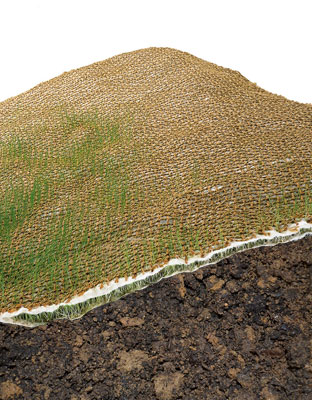 After 3 weeks: first grasses in a protected environment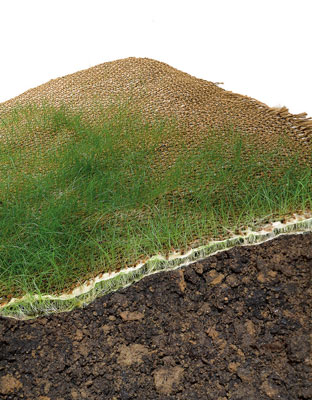 After 5 weeks: Roots penetrate gravel and scree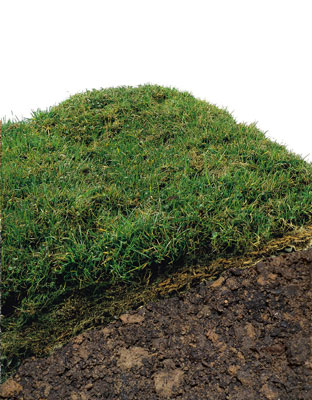 After 10 weeks: terrain paved and planted!
Forms of delivery:
weight roll: ca. 20 kg
roll length: 20 m
roll width: 1,22 m
roll diameter: ca. 30 cm
Minimum Order Quantity: 1 roll individually packed